Pink rose buds are a popular and widely recognized symbol of love, beauty, and romance. They are highly valued for their sweet, floral fragrance, and their soft, delicate appearance. This has made them a popular ingredient in a variety of products, from perfumes and cosmetics to culinary creations.
One of the main reasons for the popularity of pink rose buds is their use in aromatherapy. The fragrance of rose petals is known to have a calming effect on the mind and body, and it is often used to promote relaxation and reduce stress. Rose oil and rose water, which are derived from the petals, are commonly used in aromatherapy to create a relaxing and soothing atmosphere.
Pink rose buds are also widely used in skincare products due to their gentle nature and nourishing properties. Rose water, for example, is often used as a natural toner to help balance the skin's pH and improve its overall appearance. Rose oil is also used in skincare to moisturize and soothe the skin, and it is believed to have anti-inflammatory properties that can help reduce redness and irritation.
In the culinary world, pink rose buds are often used as a decorative element in desserts and other sweet treats. They can be used to add a subtle rose flavour to baked goods, or they can be used to garnish dishes for a beautiful and fragrant presentation. In Middle Eastern and Indian cuisine, rose water is a popular ingredient used in both sweet and savory dishes.
In addition to their practical uses, pink rose buds are also highly valued for their aesthetic qualities. They are often used in floral arrangements and as decorative elements in events such as weddings and parties. Their soft, delicate appearance and sweet fragrance make them a favourite among florists and event planners.
Overall, the popularity of pink rose buds can be attributed to their beauty, fragrance, and versatility. They have a wide range of practical uses, from skincare and aromatherapy to culinary and decorative applications. And their association with love and romance only adds to their allure and popularity.
How to make the perfect Rose Bud Tea
Rose bud tea is a fragrant and flavourful beverage that is easy to make at home. Here are the steps to make a perfect cup of rose bud tea:
Ingredients:
- 1 tablespoon of dried rose buds
- 1 cup of water
- Honey or sugar (optional)
Instructions:
1. Bring one cup of water to a boil in a small saucepan or kettle.
2. Place one tablespoon of dried rose buds in a tea infuser or strainer and place it in a teapot or mug.
3. Pour the hot water over the rose buds in the teapot or mug.
4. Allow the tea to steep for 3-5 minutes, depending on how strong you like your tea.
5. Remove the tea infuser or strainer and discard the rose buds.
6. Sweeten the tea with honey or sugar, if desired.
7. Serve the tea hot and enjoy!
Note: You can adjust the amount of rose buds and steeping time to your taste. Some people prefer a stronger rose flavour, in which case you can add more rose buds or steep for a longer time. If you prefer a milder flavour, use fewer rose buds and steep for a shorter time.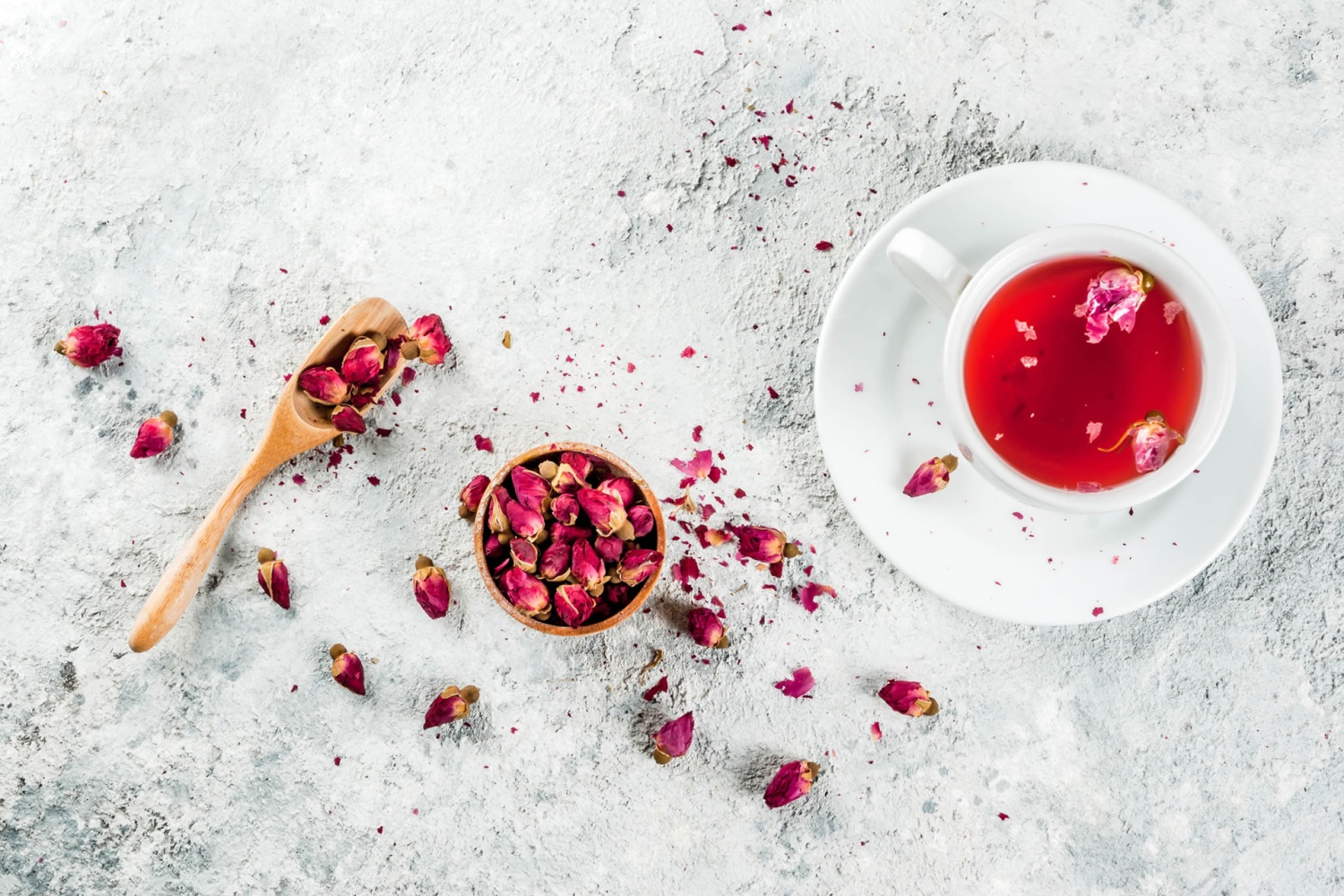 How about a popular recipe containing Rose Buds?
One popular recipe that uses rose buds is Rose Petal Jam. This sweet and floral jam is a beloved treat in many countries, including Iran, Turkey, and Bulgaria. Here's an example recipe for making Rose Petal Jam:
Ingredients:
- 2 cups of rose petals, preferably pink or red
- 2 cups of granulated sugar
- 1/2 cup of lemon juice
- 2 cups of water
- 1 tablespoon of rose water
Instructions:
1. Rinse the rose petals and remove any white bases or stems. Place the petals in a bowl of water and soak for 30 minutes to 1 hour.
2. Drain the rose petals and place them in a medium-sized saucepan.
3. Add the sugar, lemon juice, and water to the saucepan and stir to combine.
4. Heat the mixture over medium-high heat, stirring occasionally, until the sugar dissolves.
5. Bring the mixture to a boil, then reduce the heat to low and simmer for 45-60 minutes, or until the mixture thickens and the rose petals become translucent.
6. Remove the saucepan from the heat and stir in the rose water.
7. Pour the hot jam into sterilized jars and seal tightly.
8. Allow the jam to cool completely before storing in the refrigerator.
Rose petal jam can be used as a spread for toast, scones, or muffins, or it can be used as a topping for ice cream or yogurt. It's a sweet and fragrant treat that's perfect for afternoon tea or as a gift for someone special.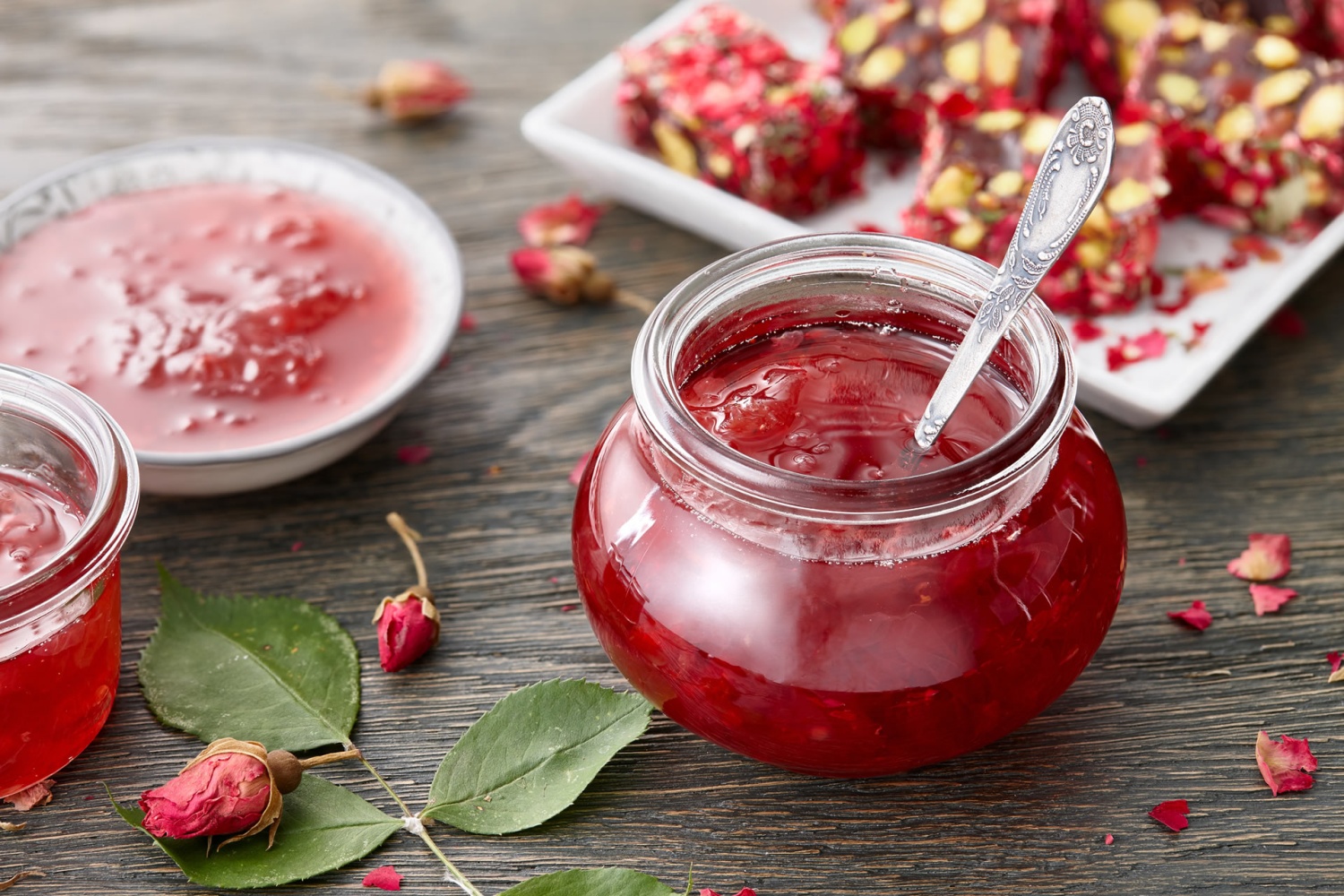 Posted By Herb Wholesalers
Updated : 18th May 2023 | Words : 811 | Views : 130